E-commerce development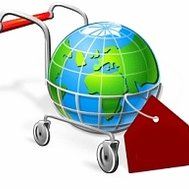 The market of Internet sales in 2012 Topped $1 Trillion. In 2015 forecast to 3.5 trillions. The Internet market of 2020 hit $7 trillion. I agree that this is a very good reason for the creation of an online store. You can sell almost anything: cosmetics, boots, cute, Ring, handbags, jewelry, cars, knives, books, T-shirts, cars, refrigeration equipment, travel packages, rolls - this is only a little part of those segments for which we created the Internet shops. This list can be infinitely long, and taking into account the size of the market is quite justified.
Have you already set up your online store? If not, then we have to have very good news: we are ready to make a very cheap online store for you on the basis of our developments. While each online store is created individually, but all have repetitive modules: catalog, search for goods, multi-level menus, advertising banners, site map, shopping cart, integration with social networks and Yandex market, payment systems, integration with 1C many other useful modules, based on which we will make your individual online shop for next to nothing.
What usually is an online store? Since every online store is different, the price for its development is usually high. The average online store will cost you 150 thousand. Rubles. You are probably grabbed his head, but with the correct implementation of an online store and promoting it properly, it will be repaid in 2-3 months. Do not believe? Ask us how to do it!
Can I make online store cheaper? It is possible, but only those who are very well versed in this and knows the creation of online shops as my 5 fingers.
Just before the end of this week, you can create an online store in just 20 thousand rubles in our company and to receive life management of your online store, which will ensure its steady growth in the market and attract new customers.
We also will present two thousand. Rubles to anyone who will lead us to a new customer!
Ready to start or want to get our free consultation to establish an online store?
Feedback