Support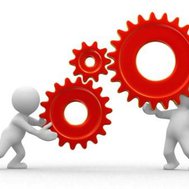 Each created website should live and develop on the Internet. This means that the site should be supported, namely regularly filled with information, have a competent content, vivid images that tell about the company, the right links. Large companies tend to hire specialized staff to support the site, which can not afford to smaller companies. With the support of the website it is also very important to fill the site right keywords important for website promotion that before support specialists will help you choose the company Zavod. It is these keywords will be the effectiveness of website promotion on the Internet. In each business area, there are hundreds and thousands of competitors that are equally attractive for Yandex and Google. Get a competitive advantage over other companies will support.
Support Company Zavod consists of elements that can be ordered either separately or together:
-Support Site in filling articles. This kind of support will be interesting website almost every company, as the update of your website is very important for search engines. Our experts can fill site as your articles, and write you're own.
-Support Site on thematic resources and forums. This type of site support will be interesting core business related to certain thematic areas (Accounting and legal). Regular publication of the name of your company written quality articles on the theme forum or catalog a very positive impact on the flow of visitors to your site, and the emergence of new buyers of your products.
-Support Site in social networks. A very large audience of the population regularly attends day-to-day social networking. Many businesses live only on clients from social networks. Support for social networking sites allows you to deliver information directly to the users of your products.
Interested?
Feedback