Machine Learning companies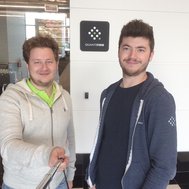 Couple days ago my friend Artem showed me his company Quantifind (http://quantifind.com). Quantifind's mission is to empower people to make better decisions that combine human intuition with the voice of intelligent data. The company can analyze tweets and give you reports with very clear answers real-time. It's one of a good example with use a machine learning.
One of the patterns: if a woman looking for a babysitter she would like to go to a cinema.
There is the good article where you can see that companies invest from $100k-$9M annually (http://www.dataintensity.com/survey-finds-data-analytics-too-slow-to-deliver-value-for-most-companies/).
It's about 70 people in the company, many scientists with Ph.D. CEO graduated from Yale and drive old Volvo.
On the angel.co you can see company got more than $12M investments.
I'm excited about companies like this and I'd like to take couple courses about Machine Learning. Actually It's very good job opportunity in Silicon Valley on machine learning specialities.